Hello to all our readers, hope you're having a great day! If you were forwarded this blog, then we would love to have you become a regular reader to our weekly newsletter! Subscribe here!
⚡️Hey Zeus Fans! Every week we share the latest news in the crypto and tokenized assets industry, with our comments and thoughts on why it's important to us, and its users! Here's what's been going on in the past week:
---
1. Libra Partners and Data Privacy
Does this mean that there will soon be plenty of apps working with Libra, such as purchases, games, payments, services, and will it be easy to integrate? Also, what would data privacy and service security look like for Facebook to make a transition to fintech? We can handle our social media account getting hacked, but we don't expect that to happen to our bank accounts, do we?
Libra Members:
Payments: Mastercard, PayPal, PayU, Stripe, Visa

Technology and marketplaces: Booking Holdings, eBay, Facebook/Calibra, Farfetch, Lyft, Mercado Pago, Spotify AB, Uber Technologies, Inc.

Telecommunications: Iliad, Vodafone Group

Blockchain: Anchorage, Bison Trails, Coinbase, Xapo Holdings Limited

Venture Capital: Andreessen Horowitz, Breakthrough Initiatives, Ribbit Capital, Thrive Capital, Union Square Ventures

And several nonprofit and academic institutions
What does this mean? The potential size of the Libra economy comes close to 20 trillion in payment or goods and services value, and 3.3 trillion of customers. To put it into perspective, it's an economy the size of the US or two Chinas, with 50% of planet Earth's population in it.
The Takeaway: First of all, it means that it's most likely already a self-sustainable economy, built on top-100 companies. And even if some additional products and services would be available, they probably will go via Libra members to get good adoption (and have a proven regulatory framework). While Facebook suggests, that countries could build their own services on Libra, it doesn't really answer the question on how the services are going to be delivered in. For example, countries under sanctions, given that the network will run on the same ledger.
Second, with several international payment systems on board (who are already implementing blockchain), Facebook may not even need a qualification in security, as long as the partners will provide it. At the same time, while Facebook has said it will keep social and financial data separate, it's unclear how it will protect transaction data on the Libra blockchain.
---
2. China's Central Bank Plans on Launching It's Own Digital Currency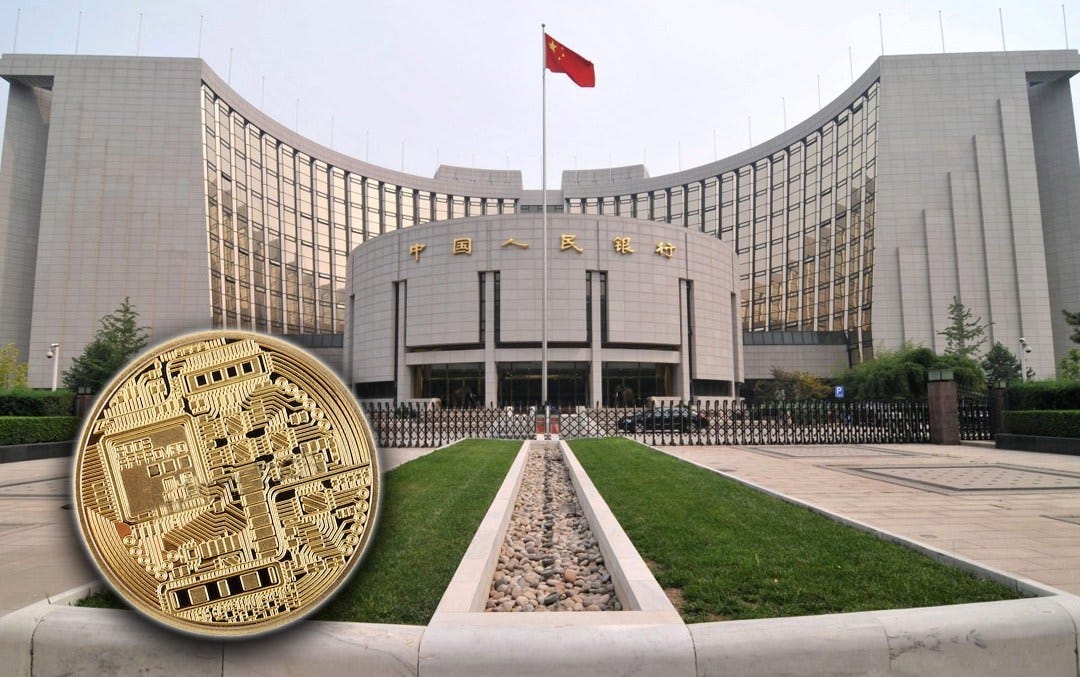 The People's Bank of China has revealed that it is "ready" to launch its central bank digital currency (CBDC). Mu Changchun, who is the deputy director of the payments unit at the People's Bank of China, said its researchers have been hard at work since last year to complete the systems needed to support the digital yuan offering and that it is "close to being out." It is thought that the Chinese government hopes to launch its state-run digital currency before Facebook gets the regulatory green-light to issue its own cryptocurrency called Libra. The People's Bank of China has been working on digitizing the yuan for at least five years, and in 2018 it began to pour significant resources into blockchain research. Early in July, the former governor of the PBoC Zhou Xiaochuan said that Libra poses a threat to payments systems and national currencies. Adding to this, he argued the Chinese government should "make good preparations and make the Chinese yuan a stronger currency." The PBOC will not issue the digital currency directly to the public, instead issuing it to commercial banks who will then issue it to the public.
The Takeaway: With China making the first move, many central banks will most likely follow suit partly out of fear that a digital Yuan will gain greater advantages in international trade. We have seen many central banks experiment with blockchain and cryptocurrency. Such as Thailand's experiment with digital currencies for interbank transfers, and with The Monetary Authority of Singapore (MAS) and the Bank of Canada conducting an experiment on cross-border and cross-currency payments using CBDCs. This new development marks a turn in the financial world as we see it, and could allow for many other entities – private and public – to develop their own digital fiat currencies.
---
3. tZERO to Open Up Security Token Market to Retail Investors
tZERO, the security token trading platform has announced that it will open its security token market to basically all investors. The platform went live earlier this year, but has been strictly limited to accredited investors only. Next week, the platform will open its doors to a new investor type, enabling retail investors to buy and sell security tokens. Even though security tokens will be available to all investors, there are only two tokens currently available to trade on the platform.
"We had a lot of broker-dealers, about 30 or 40, reach out to us that want to get involved in this ecosystem…We're working on these requests. Investors have been sending questions as well. They are excited and they are trying to understand it." tZERO CEO Saum Noursalehi, on the anticipation and market response surrounding their retail opening.
Within the industry of asset tokenization, many are drawn by the promise of increased asset liquidity. However, this is only possible with secondary markets that are open to all investors, and tZERO is not the only company with their eyes on the prize.
The Takeaway: Security tokens are seen by many as a hot new trend in crypto, and also seen by many as a regulated evolution to the ICO craze in 2017 and the beginning of 2018. One of the biggest advantages to security tokens include increased liquidity, and legitimate regulations that prevent investors from being victims of fraud. Other advantages include removing the need for middlemen, reduced fees, faster execution time for successful issuance of security tokens, allowing simpler and cheaper cross-border asset transfers, and much more!
---
Thanks for reading! Make sure to subscribe to our newsletter by signing up here.
If you love our newsletter, then make sure to tell your friends about it! Join the conversation in our
and
, and tell us what you think!